A Tree Branch… in Theory
Click on image to enlarge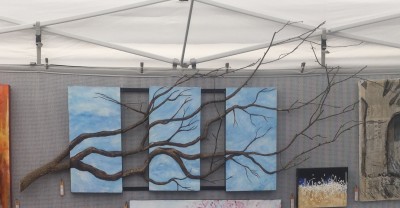 Media: mixed media
Size: approximately 6′ x 3′
Painted: 2017
This is a piece which captured the attention and interest of many. It was fun to make and a challenging endeavor.
Taking different cuts from branches, the wood was dried, arranged, and then drilled into place between canvases. To give it additional support, two metal bars were added.  This piece took over a year to make, from its concept to the wood drying, to executing the painting the way it needed to be. The hard work paid off. People admired the piece, the play on words and material, and I was glad to see the appreciation for it.
This piece has sold, but I am (slowly) in the process of producing another.