My first "large" show of the year was at the Buckhead Art Festival 2013. It was the first time I had done this festival, which is still a fairly new festival for the area.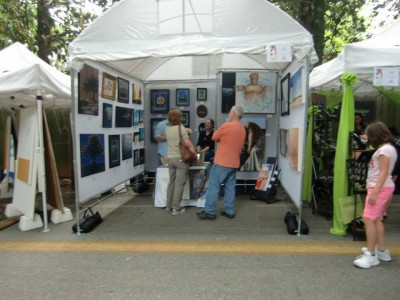 The festival was a good one for me because of where my tent was, which was near one of the ends of the festival that wasn't on a steep slope. It was a hard area for people with truck and trailors to get through because the road that our tents was off of was narrow. I was in a good spot though, unloading and loading weren't huge issues for me. The area had a lot of shade and the people who organized the festival were nice. The organization that coordinated this festival also uses the money for contributing to spaces for the community, which makes paying the booth fee feel more like a nice thing to do than a heavy 16 hour spot rental fee (it's the atlanta foundation for public spaces). This is the buckhead art festival website, http://www.buckheadartsfestival.com/
The biggest change for me for this festival was my shiny new tent!!! I've become much more educated on art festival tents. The tent I have been using is a simple easy-up with some handmade panels to hold my work up. The panels, however, were starting to get tired. A decision was starting to loom on the horizon about whether or not to buy professional free-standing panels or to purchase a more professional tent all along. With some encouragement I purchased a new, wonderful tent from www.flourish.com. It cost me a penny but it is stable, tall and gives me so much space to hang my work. Now when the wind blows or a storm is on the horizon I'm not worried at all!
Selecting a new tent isn't easy when you don't know anything about them. I did a lot of digging around on the internet and found an artist who had a great blog on working art festivals. Her website helped me immensely! It's a lot of reading and there is a ton of information ( and…sad to say, a lot of ads) that is worth read. If you are interested in doing art festivals I highly recommend that you go to Mona Majorowicz's website at http://www.squidoo.com/The-Best-Artwork-Display-Units
Using the tent I had before…
And now with my new tent! So much more space to hang my work! So much more stable when the wind blows.