Every artist has their own little quirks and methods of doing things and mine just so happens to start at the beginning of every year.
One of my quirks is the pallet I use to create my work. I get a board that is approximately 2ft x 1ft and I lay it across my lap (or if I am working on a big piece, to the side of me since I need the mobility). January of every year I swap out my pallet board for a new one so I have a different pallet completed every year that I've been painting.
I have been changing out pallets for over a decade each year now. These are the last five years of pallets I have as I move to a new, 2015 pallet.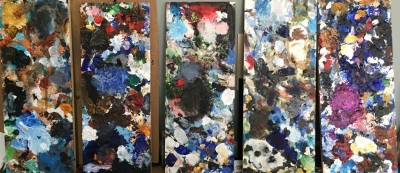 Goodbye 2014 pallet… I will miss you. We made some great stuff together.