Lights in the Forest

Click on image to enlarge
Media: acrylic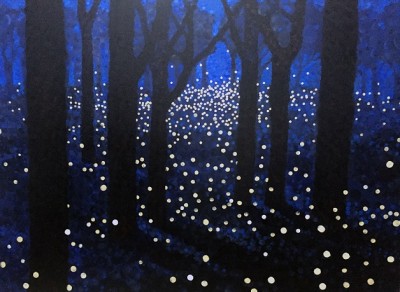 Size:  36×48″ on gallery-wrapped canvas
Painted: 2015
This painting is in keeping with the style and subject matter of a previous painting I did called "Dream of Fireflies."
While I was at my booth at the Chastain Art Festival my neighbor was a photographer. This can be used switch towards get better information related to book of dead freispiele ohne einzahlung. He saw my piece "Dream of Fireflies" and then showed me some images of fireflies in the hopes that it might inspire me. The pictures I saw were of enormous groups of fireflies, he explained to me that they were blue ghost fireflies and told me about a few times he had witnessed them. While I know they don't exactly migrate, the images make me think exactly of that– of countless, small lights traveling to some destination. I thought about the images he showed me for the next few days and created this interpretation of it.
Like with my previous piece "Dream of Fireflies" this was made using only round daubers of various sizes. No brushwork, except for the signature.
This piece is sold and is no longer available for purchase. If interested in commissioning a piece like it, please contact via email. Thank you!