Click on image to enlarge
Silver Round Ear Rings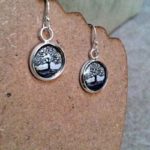 Media: Mixed Media
This is my first set of silver tree ear rings. I decided to create this piece because while working at the Marietta Artists market I had customers often make the comment that they wished my trees could be jewelry. While I don't intend on becoming a jeweler, I took the comments to heart and made my first small series of jewelry to see how they would do. It was a pretty excitable success! This piece has already been sold.
This piece is a replica– to get the detail int he branches I used a photo of one of the trees I have painted, shrank it, printed it and then created ear rings from it. The tree ear rings are available in other settings, please see them at my Etsy website at http://www.etsy.com/shop/CreatedbyEm.
The price for my ear rings is $20.00. The silver ear rings have sterling silver ear hooks if you have sensitive skin or have metal allergies.